Home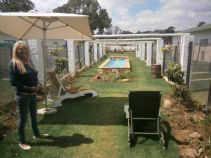 Dogon owns Maggie kennels. The indoor Kennel is a small pet facility, Larger pets are housed in the bigger chalets with private gardens situated on an estate in Walkerville, on the outskirts of Johannesburg. In which pets always take first priority. Dogon indoor kennels, resembles a home surrounded by manicured gardens and water features. It has been built with only one aspect in mind, "the comfort factor".
Our guests all sleep indoors, in tiled bedrooms with each bedroom fitted with a sofa couch and warm bedding. Some of the bedrooms have an additional AstroTurf carpet to offer a bit more softness and warmth to our younger and geriatric guests. The entire indoor bedroom areas are temperture controlled throughout the year. Each bedroom is equipped with a heater and for the warm summer days, cooling comfort is provided by our misting system.
For the safety and well being of our guests, each bedroom has its own individual, spacious, dedicated and secure garden.
Some gardens are decked with astro turf, others fully grassed.
Each bedroom and play areas are large enough to accommodate families which live, eat and sleep together.

Management
Diane has been the founder owner of Dogon Pets boarding since 1989 and with the compliment of staff lives on the property
BUSINESS TIMES
Business hours Monday to Friday 8am - 3pm.
Saturdays 8am - 12pm
Closed Sundays and Public holidays
Collections and arrivals are welcome anytime between 8am - 3pm and Saturdays 8am - 11pm.
In case of emergency please contact us to arrange a more suitable time for you.
For the security and safety of our guests, our gate is kept closed, so we will ask for an approximate time of arrival. This will allow us to have your pets washed and ready for your collection.
INFORMATION ABOUT YOUR PET

This is something which we take very seriously, please notify us of any medical conditions, no matter how small, you feel we should know about, as well as any habits such as climbing or jumping. This will assist us in choosing the best accommodation for them. Last but not least, any treats which they may be accustomed to, from time to time.
FEEDING
All our boarders receive two meals a day. Breakfast comprises of dog biscuits, either one of our premium dog foods, Small, Medium, Large or Puppy. If your pet is on a Veterinary recommended diet, you are welcome to bring that along. We feed freshly prepared chicken and rice, with additional livers, for the evening meal.
INOCULATIONS
Please ensure your pet has had his/her annual inoculations within the last 12 months as well as Kennel Cough, please ask your vet to ensure all these are up to date, as we will need to see them. If not, please have them inoculated at least 10 days prior to boarding. Tick and flea preventative measures to be done at least 2 days before boarding.
Pets under the age of 16 weeks (4 months) that have not had all their puppy inoculations (which usually span a period of 3 months from the age of 6 weeks) should not be boarded at any kennel facility as their immune system has not fully developed and they are susceptible to disease. We strongly suggest that the best place for your puppy or kitten, is either the breeder or someone reliable to look after him/her at home.